Remember that exclusive novella that was part of the Small Town Romance Collection? Now it's being offered as a stand alone novella and is up for preorder now. It will be available for your Kindle on Tuesday, June 13. Preorder now and it will be waiting for you when you wake up that morning.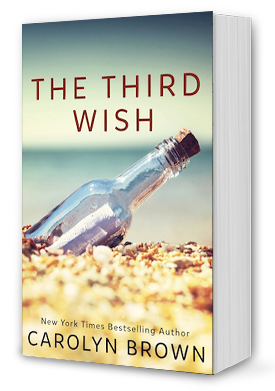 Fans of Carolyn Brown's THE LADIES' ROOM and LONG, HOT TEXAS SUMMER will be delighted by this fun, fast-paced novella about finding love in unexpected places
Be careful what you wish for…
When she was eight years old, Jessica found an old bottle on the beach and made three wishes: that she wouldn't always be the tallest kid in the class, that she would find a big conch shell, and that she would finally meet her father someday. Jessica's wishes never came true—no other kids ever matched her height and she only ever found a small conch shell at the beach—but twenty years later, when she finds her mother's old love letters, she has a chance to make the third wish come true.
Jessica travels to Florida to find her father but their reunion is interrupted by his arrogant junior business partner, Rocky Rycroft. Indignant, Jessica goes back to her Texas hometown and is surprised that Rocky follows her home. He explains he's been sent by her father's family learn more about Jessica, but all of Jessica's friends insist his interest is more personal than that.
Jessica was looking for her father, not love. Could she now possibly have both?
AND (I love that word because it means more is on the way)!
I will be joining three other authors for a Night Owl Review LIVE CHAT on June 19 from 5-6 (CST). I'll be answering questions about my two new books, The Lilac Bouquet and Toughest Cowboy in Texas both of which were chosen TOP PICKS at Night Owl Reviews recently—I will be giving away a signed copy of each book! I'll be looking forward to seeing all y'all there.
Please mark your calendars. June 19. Time: 5-6 (CST), 7-8 (PDT). Link: https://www.nightowlreviews.com/V5/Chats