The Dove
Historical Romance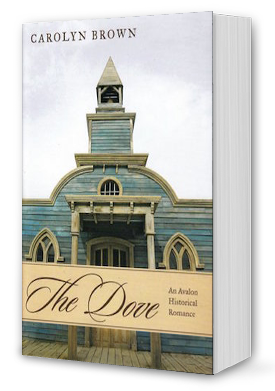 Katy Lynn Logan had two friends: Andy, her father's best friend through his whole life who'd been her surrogate father/uncle/mother/best friend since the day of her birth. And then there was Joshua Carter, the love of her heart and her soul mate. Or so she thought until that day when she buried her father; the same day Joshua broke her heart and tore her soul apart.
Seven years later Joshua returns to find his preacher father had been right. Katy Lynn Logan had turned out exactly like her immoral mother and drunk father. She ran a saloon on the banks of the Red River called The Soiled Dove. He can scarcely believe the beautiful piano player is his Katy, but then, seven years changes everyone.
Katy can't believe her eyes when she finds Joshua sitting on a bar stool in The Dove, but the real shock comes a few days later when she finds him preaching in her church in Spanish Fort, Texas. Joshua's attraction to Katy did not die when his father sent him away from Spanish Fort. Katy had not buried her attraction to Joshua when she built a saloon or buried herself in hard work.
Neither of them tried to deny it, but they both determined they'd sure get over it. Or would they?