One Texas Cowboy Too Many hits the market on March 1
I've been spending so much time in my writing cave that time just flat out gets away from me. But to produce books and keep my readers happy, that's where I must be for several hours a day. Not that I'm complaining one bit. I love my writing cave where I can talk to the voices in my head and listen to the stories all these folks have to tell. And no one thinks I've totally lost all my marbles. 
But I am very happy to announce that all the work is paying off and One Texas Cowboy Too Many hits the market on March 1. It's the third book in the hot feud between the Gallaghers and the Brennans in Burnt Boot, Texas.
---
One Texas Cowboy Too Many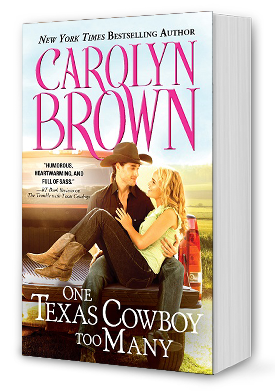 Book 3, Burnt Boot Series
She's got too many cowboys on her hands
Leah Brennan has always been the good girl of the Brennan family, groomed to become the matriarch of the clan. When a dark-eyed, tattooed, ponytailed bad boy saunters into her life, Leah knows he's off-limits-but his mesmerizing gaze makes her forget everything she used to think was important. As town-wide tension rises, Leah wonders if love really can conquer all…
And the whole town's taking sides
When Rhett O'Donnell roars into Burnt Boot on a hot July evening, the first thing he sees is a beautiful blonde. She puts a little extra giddy-up in his heartbeat, but when Rhett's desire throws him into the middle of a love triangle and a hundred-year-old feud, he realizes that winning his cowgirl's heart will be a lot more complicated than he thought.
---
One Texas Cowboy Too Many has gotten some fabulous reviews that I would love to share with you: 
"Brown revisits the small town of Burnt Boot, Tex., for the third installment in her Burnt Boot series (after The Trouble with Texas Cowboys). School teacher Leah Brennan is immediately attracted to Rhett O'Donnell when he rides into town on his motorcycle to help his cousin Sawyer with Fiddle Creek Ranch. Rhett is equally enamored with the beautiful blond. But he doesn't realize that he's also riding into the age-old feud between the Brennans and the Gallaghers, another family in town. As romance between Rhett and Leah blossoms, she exercises independence from her fiercely controlling grandmother, but Granny Mavis doesn't like Rhett and insists that if Leah continues to see him, she'll be thrown out of the family home. Brown's latest is filled with quirky characters and a healthy dose of humor, as the feuding families constantly try to outdo one another with their crazy antics. Yet the highlight of the novel is the sweet and sensual romance between Leah and Rhett."
~ Publisher's Weekly
"An intense feud between two families and a contentious love triangle make up Brown's latest. Readers will fall in love with Rhett and Leah and their genuinely sweet, sizzling chemistry. A delightful story with a charming, laid-back cowboy and a good blend of humor and sexy tension makes this one entertaining read.
New cowboy Rhett O'Donnell rides into town on a tricked-out motorcycle and schoolteacher Leah Brennan's heart skips a beat. Rhett is intrigued by the sweet Leah, even though she's off-limits due to a town feud. But Rhett's not going to let a feud stop him from pursuing her. For Leah, the more she's around Rhett, the more her heart changes"
~ RT Reviews (Top Pick 4 1/2 Star Review)
"The Brennans and Gallaghers have been feuding for decades, and Leah Brennan doesn't see it ending any time soon. Her childhood crush on Tanner Gallagher is as forbidden as it gets. As the future matriarch of the Brennan ranch, she knows indulging in it could get her banished. When Burnt Boot transplant Rhett O'Donnell bumps into Leah at the town store, she soon forgets her infatuation with Tanner for the longhaired, motorcycle-riding rancher. Though Rhett isn't part of the family feud, Leah's attraction to him brings forth a flurry of threats from Mavis, the head of the Brennan clan. Leah's budding relationship with Rhett makes her believe she can live without her flawed family, but can she turn her back on all she's known? Brown (The Trouble with Texas Cowboys, 2015) has built the Brennan-Gallagher rivalry throughout the Burnt Boot series, and fans will be excited to learn the inner workings of their ever-burning hatred. The large cast of characters can be daunting, but ultimately it makes the book a richer reading experience."
~ Booklist
Keep your boots because Hot Cowboy Nights, book #2 in the Lucky Penny Series, will be out in May! And after that you get a double dose of Christmas cowboys in September with Merry Christmas Cowboy (#3 in the Lucky Penny Series) and A Cowboy Christmas Miracle (the grand finale to the Burnt Boot series) plus you get another romantic women's fiction that month. If you liked The Wedding Pearls then there's a really good chance you are going to love The Lullaby Sky.
Happy Reading,
Carolyn