Welcome to my new site!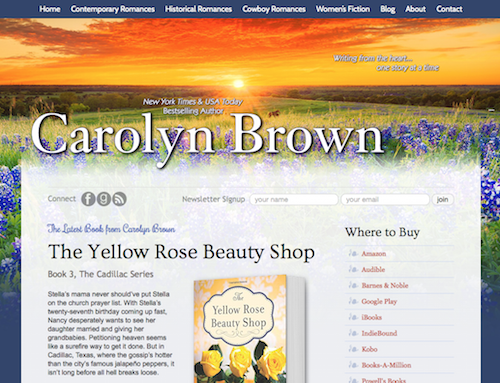 I'm so excited about this new site that I could stand on the rooftop with a megaphone and direct everyone in Southern Oklahoma to it. There's a place for you to sign up for upcoming newsletters which I will be sending out periodically starting in the next few months. So please take time to do that while you are looking at the lovely bluebonnets and that gorgeous Texas sunset. Come back any time you get a chance, settle in and enjoy browsing through the site for as long as you like.
Reading became a passion when I was very young and I would read anything but I loved romance books. My English teacher, who was quite modern for the times and let us read anything we wanted for book reports, always gave me a good grade on my reports. But I remember one quite well that she wrote, "Why do you read this trash?" on the side. Well, Mrs. Williams, with my 75th book arriving in December, I can now answer that question. I read those wonderful books to understand how to write awesome romance stories and now I get to do just that everyday!
I've written historical series and single title romance, contemporary series and single title romance but here lately I've settled on cowboy romances and women's fiction books. 
I've always wanted to be a romance author and touch people's emotions the way that those first authors I read touched mine. My grandmother used to say that if you are working at something you love, whether it is the CEO of a big company or digging ditches, then you are a success. With that in mind, I am a success because I love every minute of my job.